Honest and reliable
For all types of tree maintenance work, we explain the process to make the process simple and transparent.

Expert arborist
Our team puts its expertise at the service of the health and longevity of your trees. Trust us, no matter what type of maintenance you have to do.

Certified and graduated
Our certified arborists and pruners combine their knowledge to provide you with quality complete tree services.

Complete insurance
We offer a guaranteed satisfaction service in addition to being covered by adequate protection. For proof of liability insurance – Click HERE
Full list of our services:
We offer a complete range tailored to your needs, in the territory of Granby and the surrounding area. Please contact our team to get the answers to your questions about:
Arboriculture – Tree cutting – Tree Pruning – Tree removal – Tree trimming – Branch shredding – Selective deforestation – Stump grinding – Hedge trimming – Bolting and cabling – Insect and disease detection – Consultation
Free estimate by an arborist – call us FREE OF CHARGE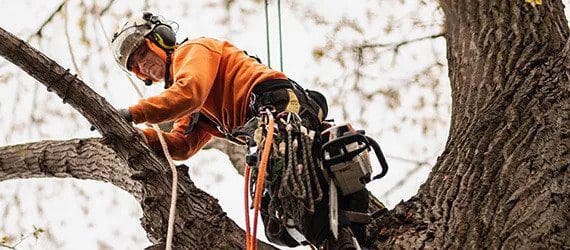 Élagueurs Arbor offers arboriculture services (tree maintenance) for the residential and commercial sectors in Estrie and Montérégie. Our team has put its recognized expertise at the service of the health and longevity of your trees for two generations! For a tree service that meets your expectations, call on our arborists 7 days a week. Whether it is pruning, pruning or tree felling, consult our list of services and trust us to provide you with honest answers, a transparent submission and flawless work.
2014
Investiment
Investments in equipment and skilled labor to serve the company's growing clientele.
2010
Jonathan Cantin
In 2010, Jonathan took over the family business. From father to son, the passion for trees and climbing is passed on!
1980
Founded in Granby
The Arbor Pruners company was founded in 1980 by Jonathan Cantin's father. They started out by offering their tree maintenance services in Granby.
We serve customers within a 65 km radius of Granby.